W D Joinery give expert advice on the process of replacing doors and windows for a listed building and are pleased to offer Slimlight glass units which are approved by the planning department. Slimlight double-glazed units encompass the latest Warm Edge Technology, Low E Glass and insulating inert gasses. They feature small perimeter seals and small cavities which can be fitted into most single-glazing rebates. We regularly work closely with North Devon based Mike Wye & Associates, specialists in natural building and decorating products.
For all your joinery requirements please call Wayne or Mark on 01237 421164 or email us at info@wdjoinery.co.uk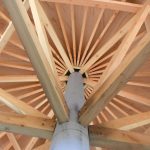 Oak Frames & Trusses
Here at W D Joinery we can provide you with roof trusses, garage car ports, porches and beautiful Oak framed garden buildings.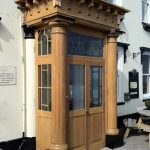 Woodturning
W D Joinery is one of only a small number of companies in the country that can undertake large wood turning.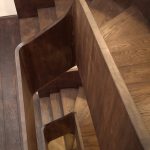 Staircases
Our staircases are all produced and made individually by are skilled joiners and a design service is available if required.