Here at W D Joinery we can provide you with roof trusses, garage car ports, porches and beautiful Oak framed garden buildings.
The Oak can be jointed together with traditional pegged mortice and tenon joints or by using stainless steel jointing techniques usually required by structural engineers.
All of our Green Oak frames are unique and are built to our customers requirements.
For all your joinery requirements please call Wayne or Mark on 01237 421164 or email us at info@wdjoinery.co.uk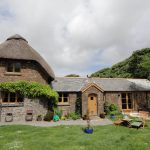 Listed Buildings
W D Joinery give expert advice on the process of replacing doors and windows for a listed building and are pleased to offer Slimlight glass units which are approved by the planning department.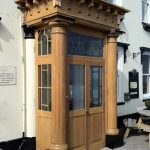 Woodturning
W D Joinery is one of only a small number of companies in the country that can undertake large wood turning.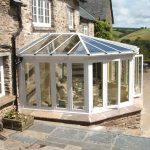 Conservatories
From our North Devon workshops, W D Joinery produce bespoke handcrafted wooden conservatories to your specifications using traditional joinery techniques.