W D Joinery is one of only a small number of companies in the country that can undertake large wood turning. Our skilled joiners and carpenters are experienced in the production of wooden columns in a variety of styles and can work to any specification.
We have a fully equipped wood turning workshop in which we can turn most items to your requirements. We can turn a single piece or 1000 pieces, from a door knob to a timber column. 3.6m long x 400mm in diameter or 50mm long x 15mm diameter – sizes to suit all.
We can copy an original, which you supply us with or we can traditionally hand turn from a drawing or sketch.
For all your joinery requirements please call Wayne or Mark on 01237 421164 or email us at info@wdjoinery.co.uk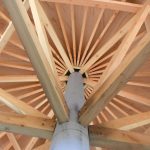 Oak Frames & Trusses
Here at W D Joinery we can provide you with roof trusses, garage car ports, porches and beautiful Oak framed garden buildings.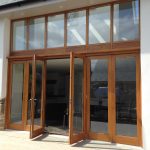 Bi-Folding Doors
Bi-folding doors either folding or sliding offer the perfect opportunity to open up an area. They maximise room spaces and can make a huge difference to both interior and exterior areas.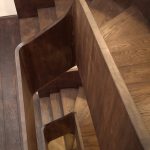 Staircases
Our staircases are all produced and made individually by are skilled joiners and a design service is available if required.